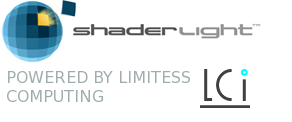 Limitless and ArtVPS will be previewing our new Shaderlight Cloud Rendering for Google SketchUp at the American Institute of Architects (AIA 2012) convention in Washington, DC this week (May 17-19) in Booth #1908. Shaderlight Cloud Rendering is the first, and only, SketchUp rendering plug-in to use the power of the cloud to deliver high quality photorealistic renderings fast without tying up your desktop. See a sneak preview now of the high quality and time savings you can expect with the new Shaderlight Cloud Rendering plug-in.


Highlights:
Faster: renders SketchUp animations up to 30x faster; scenes up to 5x faster (compared to 4-core workstations)
Multiple projects: render scenes and animations simultaneously
No investment in specialized rendering hardware
Submit unlimited renders to the cloud
Upfront pricing starts at $9.99
Render on the cloud and continue to work locally
Meet tight deadlines
Stay on time and budget
Shaderlight Cloud Rendering will be available June 2012!
If you have any questions, please contact us at 877.663.3797, see our press release, or contact our press rep Marilyn Kroner.